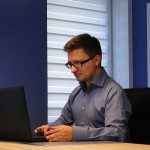 specjalista chorób wewnętrznych
specjalista endokrynologii
certyfikat PTU w ultrasonografii ogólnej i dopplerowskiej
Absolwent Wydziału Lekarskiego Śląskiej Akademii Medycznej w Katowicach, specjalista chorób wewnętrznych oraz endokrynologii, starszy asystent Oddziału Chorób Wewnętrznych Szpitala p.w. Św. Jana Jerozolimskiego w Szczyrzycu, członek Polskiego Towarzystwa Ultrasonograficznego, European Federation of Societies for Ultrasound in Medicine and Biology oraz Polskiego Towarzystwa Endokrynologicznego.
Posiada kilkunastoletnie doświadczenie w szpitalnej i ambulatoryjnej diagnostyce ultrasonograficznej. Kwalifikacje potwierdzają egzaminy i certyfikaty Polskiego Towarzystwa Ultrasonograficznego. Duża ilość wykonywanych badań i stałe doskonalenie umiejętności na licznych kursach i szkoleniach gwarantują wysoką jakość usług medycznych.
Główną sferą zainteresowań obok endokrynologii, diabetologii i chorób metabolicznych pozostają choroby układu sercowo-naczyniowego, oddechowego, pokarmowego oraz moczowo-płciowego, szczególnie ich diagnostyka z wykorzystaniem ultradźwięków (usg, usg doppler, echo serca) i specjalistyczne leczenie zgodne z najnowszą wiedzą.
Zapraszam do gabinetu lekarskiego w Bochni i Gdowie na badania USG oraz konsultacje w zakresie chorób wewnętrznych i endokrynologii.
Marcin Nosal
REJESTRACJA: 533 32 32 11
GODZINY PRZYJĘĆ
Gdów
Bochnia
Poniedziałek
11:00 - 12:00
16:00 - 18:00
Wtorek
16:00 - 18:00
-
Środa
-
11:00 - 12:00
Czwartek
16:00 - 18:00
-
Piątek
-
16:00 - 18:00